Symposium Vibrations in Physical Systems is a periodically organized scientific event with a 60 year old tradition. It gathers scientists working in the fields of science in which mechanical vibrations play an important role. The thematic scope of the conference includes, among others, dynamics of machinery, vibroacoustics, waves in solids and liquids, stability and control issues as well as biomechanics. The conference gathers mechanics, mathematicians, engineer-constructors, technologists and physicists around the latest advances in basic and applied sciences. It creates good conditions for exchanging experiences and establishing cooperation.
The first symposium on linear and nonlinear vibrations took place on 25-26 April, 1960 in Poznań. The work of the organizing committee was headed by the chairman of the Poznań Department of PTMTS – prof. Edmund Karaśkiewicz.
From the PTMTS Bulletin No. 2 (Warsaw, May 1960).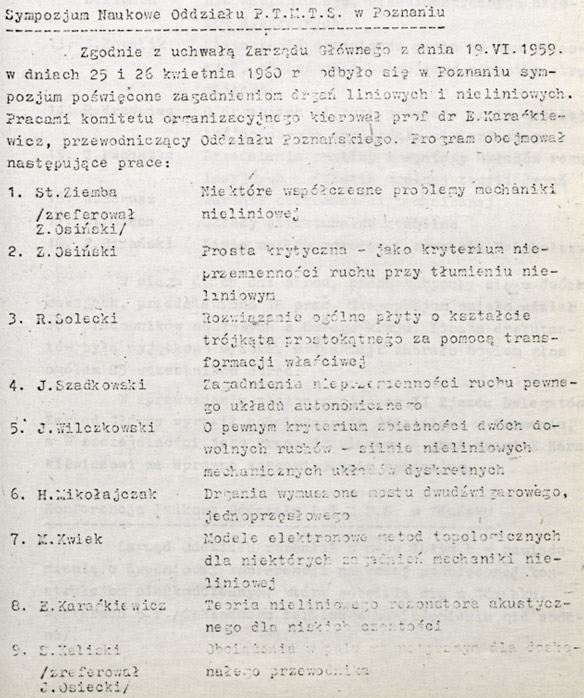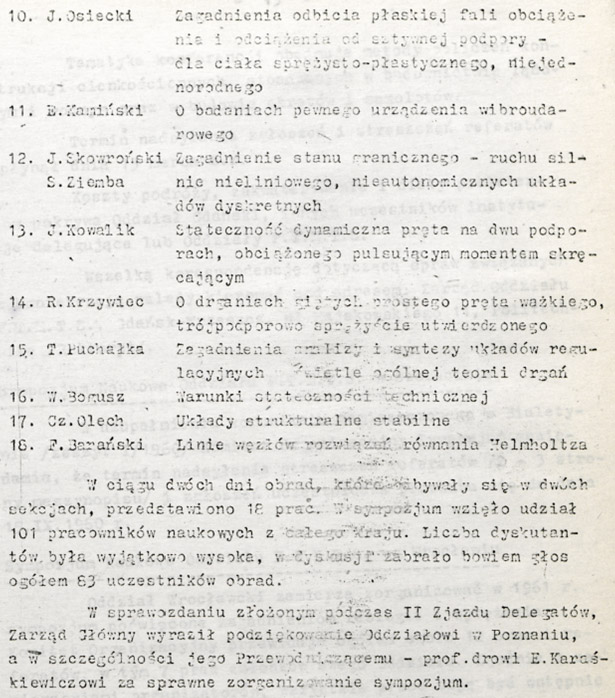 The idea of the periodically organized conferences was continued in the next years under the chairmanship of prof. Czesław Cempel and prof. Jarosław Stefaniak . Then, the chairmanship of the Symposium was taken over successively by prof. Jan A. Kołodziej , prof. Marian Ostwald , assoc. prof. Tomasz Stręk, prof. Bogdan T. Maruszewski , prof. Marian Dobry and asst. prof. Roman Starosta. The places of the next editions of the Conference were the resort in Błażejewko near Kórnik and the conference centre of the Institute of Mathematics of the Polish Academy of Sciences in Będlewo. The Symposium has permanently entered the calendar of Polish scientific events. On the 60th anniversary of the Conference we come back to Poznań to exchange the experiences as well as recall the memories of the Symposium and its participants.